It's not that hard. You just need a plan.
for example, ON FRIDAY
Fill in your lunch food for the next week on this planner. Remember that this is food you make yourself including two vegetables. Here are some ideas to get you started. Try them. Swap things around, and decide how much you want to eat.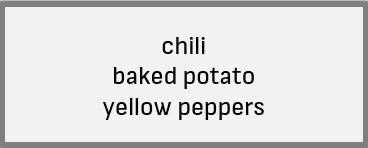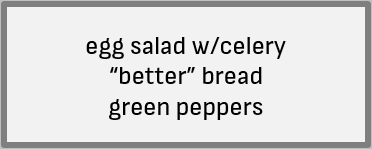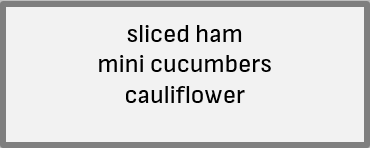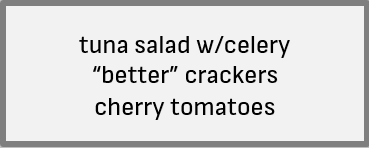 Frequently Asked Questions
What is a serving of vegetables?
About as much as you can hold when you cup your hands together.
What does "better" mean? The highest quality food you can find. Organic is nice, but not essential. Find ingredients you recognize, and food with the most "good" stuff left in (e.g., whole wheat pasta or brown rice) and the least "bad" stuff added (e.g., anything hydrogenated or chemical preservatives). Better is…better.
How does "Wheat just once a day" fit in? If you eat wheat at lunch, make a wheat-free choice at dinner. If you know you're having lasagna at your in-laws' house on Thursday, swap Thursday's ham sandwich for Wednesday's egg salad. The goal is to avoid some refined foods (which are often made of wheat).
I'm really supposed to make five different lunches? Only if you want. You CAN eat foods you especially like every day for five days, or eat the same lunch for two or three days. If you MUST have variety, will you not try this because it's "too hard"? Come on.
then ON SATURDAY
Shop. You already have a list made. Buy only what you need. Read the ingredients on everything you buy.
for SUNDAY
Prep. You know what to make, so you can tackle this quickly, too.
MONDAY - FRIDAY
Pack. Eat. Enjoy. Repeat.